Scrap Car Prices – Giving you the best deals
Is this your car?

Year Of Man.
| | |
| --- | --- |
| Make | |
| Model | |
| Variant | |
| Body Type | |
| Engine Size | |
| Fuel Type | |
| Unladen Weight | |
Do you have a car that no-one wants to buy – but you still want to make some good money on it? Then why not get in touch with us, we buy cars others won't touch and we pay prices others can't match. To you your car may be useless – to us it's definitely not worthless!
As we are able to dismantle vehicles, we can still pay for your old car. It does not matter to us what state of repair or condition your car is in – we are always willing to offer you the best scrap car prices around. So if your car is an insurance write off, whether it is accident damaged, is a MOT failure or has missing parts you can still make some easy, ready money on it. There are no charges, no hidden fees*, no collection costs – you only make money and we do all the work for you.
*You may be charged a nominal £2.50 fee if you choose to be paid by same day bank transfer
— Get a quote now! —
Receive up to £400 for your car! Just fill out the following form
The Procedure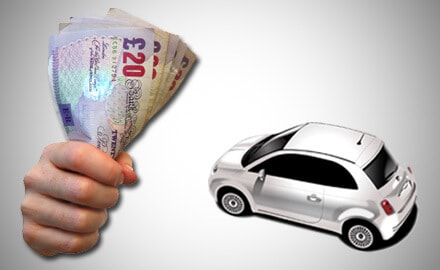 You can give us a call on the Freephone number or mobile, or you can send us an email if you prefer. You then provide us with a description of your car.
We then can offer you the best scrap car prices we can for your car. We are convinced you will be pleased with our quote – most of our customers are!
Then we arrange a time and day to collect your vehicle. We are sure there is a time that can suit you. We collect every day, weekdays between 8am-8pm weekdays and weekends 9am-4pm. So no need to take any time off work – now that is a novelty!
 What happens to my car?
We do not just scrap your car for you – we recycle it. We are fully licensed and all of our drivers are licensed waste carriers. They remove your car on a recovery truck and take it to a Government Approved Treatment Facility (ATF).The process of disposing of the car starts here. It is fully de-polluted of all its oils, fuels and liquids, the tyres are removed and the remaining metal is then compacted and all recycled. We dispose of cars fully with the Environment Agency directives and are compliant with Hazardous Waste Legislation, so you can be safe in the knowledge your car is being disposed of within the law and with the most environmentally–friendly methods too. We are sure recycling is important to you – as much as it is to us.
The Legal Elements
When we take your car to an ATF we also give to them the Motor Trade / Dismantler section of the V5 Document. They then register your vehicle as an 'end of life vehicle' (ELV) with the DVLA and once the DVLA receive your part of the V5 Document, the vehicle is removed from the DVLA database. The car is no longer in existence nor in your name.Do make sure you send your part of the V5 form to avoid being fined £80 – this could happen automatically if the DVLA records still show your vehicle and there is no corresponding SORN.
*If you do not have a V5 registration document – do not worry. We can STILL buy and collect your vehicle as normal so long as you can provide documental proof of being the legal owner of the vehicle, such as, insurance or tax documents etc. But it would be your responsibility to inform the DVLA of the disposal of the vehicle. Regrettably, we are unable to do this for you. All you will need to do is inform the DVLA in writing the registration number and the date of when the vehicle is scrapped. The DVLA will respond in 2-3 weeks with an acknowledgment letter.
| | |
| --- | --- |
| | Not only do you benefit from the best scrap car prices around bar none but by scrapping your car with us you can also avoid unnecessary insurance expenses, avoid SORN issues and make some better use of your newly emptied garage too! We recycle, we are fully licensed and we always aim to give our customers the service they deserve. |
Where we cover
We have highlighted in our map the numerous regions we cover – the most popular cities are listed here too.
Birmingham
Coventry
Leicester
Loughborough
Milton Keynes
Northampton
Nottingham
Oxford
Stoke
Tamworth
Warwick
West Bromwich
Wolverhampton