Scrap My Car in London
Looking to scrap your car for cash? You've come to the right place. Whether your car is beyond repair, has failed its MOT or has been written off by the insurance company you can still get some cash back. You can receive up to £500 today for scrapping your old car or runners from 2012 onwards up to £25,000 (T&C's apply) and at MJ Recovery, we're here to help you get the best and fairest deal.
We turn the tedious process of selling your scrap car into a fast and hassle-free experience by eliminating all intermediaries. Our experts will contact the authorised treatment facilities for you, collect your vehicle anywhere in North West London and arrange transportation to the scrap yard. All that's left to decide is whether you want your money in cash, cheque or same day bank transfer.
Is this your car?

Year Of Man.
| | |
| --- | --- |
| Make | |
| Model | |
| Variant | |
| Body Type | |
| Engine Size | |
| Fuel Type | |
| Unladen Weight | |
Get a Quote Now!

Receive up to £400 for your car! Just fill out the following form

We adhere to all legal requirements and aim to be eco-friendly (3 of our vehicles are eco friendly, either having LPG conversion or hybrid diesel/electric engines resulting in low emissions).
We like to give something back to society so we have donated over £3,000 to the RNLI, the Air Ambulance and the Snowball Appeal. (Check out our Why Choose Us Page)
Hopefully we will be recommended to your friends & family!
Your Scrap Car Selling Process in London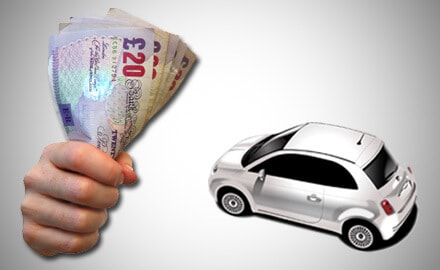 At MJ Recovery, we pride ourselves in our fast and efficient 6 step process. 
Get An Exact Quote
Once you've filled out our quotation form with your vehicle's details we will be able to provide you with an accurate valuation of your scrap car.
Car Collection
We can then agree on the most suitable time and preferred location in North West London for us to come and collect your car. For your convenience, we operate a 7 days a week collection service any time between 8 am and 8 pm so there is no need to take any time off work.
Get Your Documentation Right
Should you need any help filling out the necessary parts of the V5* registration document on the collection day our experts are always happy to assist you. You'll then need to send your part of the V5 document over to the DVLA.
Payment
At this point, we'll pay you the agreed amount and all that is left for you to do is hand over the car keys.
Transportation to Scrap Yard
Our service doesn't just end there. One of our licensed waste carriers will remove your car from your property in London on a recovery truck clearing up your driveway. He will transport it to the scrapyard and then hand in the motor trade/dismantler section of the V5 document to help you avoid any unnecessary fines.
Car Scrapping
Finally, we guarantee your car will be scrapped in the most environmentally friendly way once at the chosen Governmental Approved ATF. It will be de-polluted, the tyres removed and the remaining metal crushed and recycled.
Scrap My Car Now!
If you are based anywhere in the North West London area or further afield give us a call on 08000 778 328 or 07766 540 401. Alternatively,  fill out our quotation form above or email us at [email protected]
| | |
| --- | --- |
| | * If you do not have the V5 registration document or any part of it, we can still collect. As long as you can prove you are the legal owner of the vehicle by way of other documentation such as insurance, tax letter etc. we can still buy your car. However, where the V5 is lost or missing, DVLA will only accept a letter from the registered keeper to remove it from their database. So, all you need to do is write to DVLA advising the registration number and the date the vehicle is scrapped. They will respond with an acknowledgement letter in approximately 2-3 weeks. |
Where we Cover